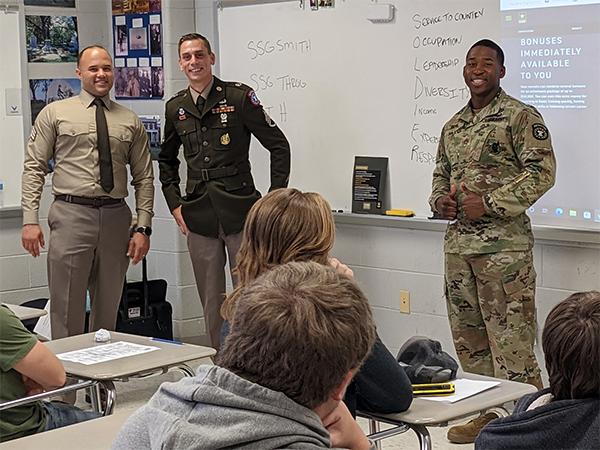 Portland High School Welcomes Career Professionals
An FBI agent, comic book creator/ illustrator, emergency room nurse, musician and electricians were some of the careers represented today at the annual Portland High School Career Day and College & Industry Showcase. Students had the chance to learn about different careers while networking with local companies in that field.
Career Day gives students an up-close look at different career paths and connects their learning to the real world. Community members and leaders allowed students to ask questions while sharing insights about their career including salary, work environment and education needed.
Here are some of the fields represented today.
Agribusiness/John Deere, INC.

Air Force

Army

Artist

Auctioneer/Real Estate/Farming

Cabinetry

Computers/IT Analyst

Cosmetologist

Counselor

Dental Hygienist

Detective

Drug Task Force/K-9 Officer

Education

EMT

Engineer

Electrical Trades

FBI Agent

Firefighter/EMT

HVAC

Loan Officer

Manufacturing with Advanced Technology

Marines

Mortuary College/Funeral Director/Embalming
Musician

National Guard

Navy

ER Nurse

RN / Nursing Students

Pediatric Physician - Scientist

Pharmacy

Photographer

Physical Therapy

Portland Police

Real Estate Agent

Sales Agent

Search and Rescue Cadaver Dogs

Small Business Manager/Entrepreneur

Sports Medicine /Trainer

Strength and Wellness

Sumner County Sheriff's Office

SWAT

Tennessee Truckers Foundation

Tool and Die

Veterinarian

Wildlife Officer
For more pictures, click HERE.