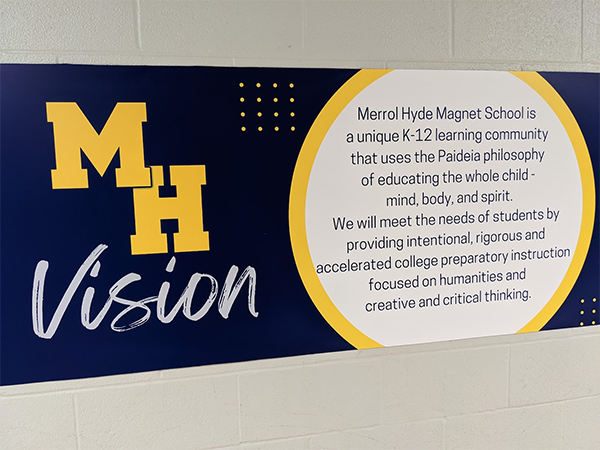 Merrol Hyde Magnet Among Only Seven Schools Nationally to Earn Paideia Accreditation
Merrol Hyde Magnet School is the only school in the mid-state to achieve National Accreditation as a Certified Paideia School for Creative Thinking. Teachers integrate didactic instruction and intellectual coaching with Paideia Seminar to produce enlightened minds that can confidently collaborate with various people, concepts, and opinions, while developing real world skills, critical thinking and problem solving.
Merrol Hyde Magnet School became a National Accredited Paideia School in 2021. On Monday, October 24th, the school welcomed parents and community members into the school for "A Night of Paideia" where stakeholders viewed Paideia projects, observed seminars, and participated in seminars. MHMS is a back-to-back Blue Ribbon School of Distinction recipient winner. The recognition is based on a school's overall academic performance and given to only a few hundred schools across the nation. In addition, the school has been ranked as third in the nation and first within the state of Tennessee by US News and World Report.
"The accolades are nice, but they come with a commitment from the parents, students and teachers to do the hard work every day," MHMS Principal Darren Frank said. "If we aim for the accolades, we'll miss the good stuff that happens every single day like Paideia Night. It's nice to be recognized but even if we weren't recognized, we would still have a great school."
In June, the school hosted the national Paideia conference and welcomed schools from all over the United States including New York, Pennsylvania, and New Mexico that are seeking national accreditation.
The journey to becoming a fully realized Paideia School for Creative Thinking typically takes three to four years and involves three stages of growth and development.
Stages of Transformation
Stage 1: Paideia and Socratic Seminars
Seminars are grounded and rooted in a complex text which can be an article, excerpt from a book, historical document, or song lyrics. The text serves as the foundation of the information that the student explores. There are two types of Seminars. The Paideia Seminar and the Socratic Seminar. The Paideia Seminar is direct instruction between student and teacher. It starts with a pre-seminar where teachers explore student's vocabulary, background knowledge and context before diving into a discussion. The seminar is a collaborative dialogue based around text with open ended questions. With the Paideia Seminar there is no fixed point. The school wants students to come away with new ideas, new perspectives while engaging civilly. The Socratic Seminar has a fixed point where we want students to get to an idea or come to a conclusion while using text to justify their reasoning. After the seminars, students interpret and personalize their learning then produce a work product.
Stage 2: Paideia Classroom
There are three columns of Paideia teaching and learning in all classrooms. This program integrates didactic instruction of information, intellectual coaching of academic skills, and seminar discussion of ideas and values. Certification in the Paideia Classroom means that rigor and equity are self-evident 100% of classroom time, setting the stage for the Paideia Project.
Stage 3: Paideia Project
The Paideia Project, which includes the Paideia Seminar, is a unit of study culminating in a product or performance wherein students demonstrate mastery of a subject. Examples of a project include, but are not limited to, presentation, art project, speech or performance.
For more pictures, click HERE.