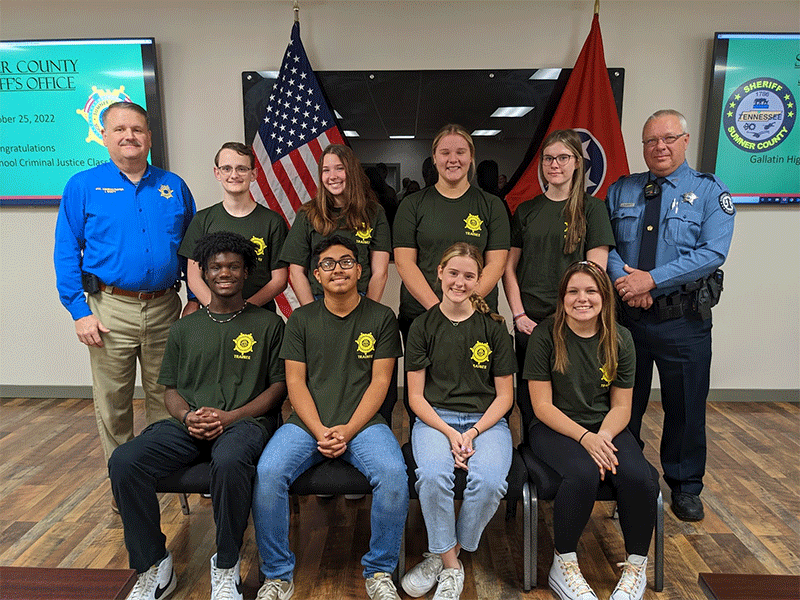 Gallatin High School Students Learn the Skills to Pay the Bills
GHS students can graduate high school and earn just shy of $43,000 a year thanks to a collaborative program between Sumner County Schools and the Sumner County Sheriff's Office. Eight students finished and received their Basic Corrections Officer Certification. If students pass the civil service test in May, then after they graduate high school, they will be immediately qualified to work for the Sheriff's Office and skip the two-to-three-week onboarding process.
Sumner County Jail Administrator, Jerry Scott, said all the graduating classes are special, but this particular class is extra special because every student wants to go in public service, some as attorneys and some as police officers. Not matter the field students enter after graduation, the corrections class helps students to get their feet wet and understand the process of law enforcement.
During class students learn cell extractions, First Aid/HIPPAA, prisoner transports, mental/health suicide prevention, de-escalation, conflict resolution, ethics, handcuffing, contraband control, cell searches, and much more. Students also tour the jail and job shadow in various positions like booking, releasing, master control and various other locations, so students can get a feel for a career in corrections.
Scott says they are working hard with Gallatin High School and any vocational program they can to meet the Sheriff's initiatives to have a better trained workforce and a better prepared student.
Gallatin High School Criminal Justice Teacher and Retired Law Enforcement Officer, Scott Pascarella, says this class opens doors for students that want to head straight to the workforce after graduation and have a career with advancement opportunities.
"This is a great partnership that we developed about a year ago. In CTE, (career and technical education, formerly known as vocational) our goal is to provide opportunities for our students. This is one of a few classes in the state of Tennessee that affords students the opportunity to go right into the workforce after graduation. It's been a terrific partnership with the Sheriff's office and their willingness to help out and have this take place."
Students must be 18 years old, a high school graduate, and have a clean criminal record to apply for a position with the Sumner County Jail. If students are interested, they can then transition to patrol at 21 years of age. The class is taught by a various instructors including Jail Administrator Jerry Scott and Retired Law Enforcement Officer Scott Pascarella.
Congratulations to the 2022 Basic Corrections Certification Class:
Hailey Bollenberg, GHS Senior

Carson Bradley, GHS Senior

Victor Johnson, GHS Junior

Daniel Briones Samayoa, GHS Senior

Journey Scott, GHS Senior

Alexandria Smith, GHS Senior

Chloie Smith, GHS Junior

Madison Tuttle, GHS Senior
For more pictures, click HERE.